Fiverr and Upwork are the most popular freelance marketplaces in the world. Millions of freelancers and clients are using these two websites. The two websites are very reliable and secure. Freelancers and clients can safely use these two marketplaces. Today in this article I will discuss in detail about Fiverr and Upwork. This will let you know all the information related to Fiverr and Upwork.
Fiverr
Fiverr is a freelancing marketplace where you can sell your services and purchase other people's services. This website is very popular among freelancers. In 2010, Shai Wininger and Micha Kaufman founded Fiverr.
Fiverr is named because in the beginning all the services here could be bought and sold for only $5.  After 5 years of this rule, in 2014 they brought a radical change to the system and allowed the release of gigs worth more than $5. This increased the popularity of Fiverr. Freelancers are encouraged to provide better services.
Related Article: World's 10 Best freelance marketplace in 2021
How does Fiverr work?
Fiverr works just like any other freelance market. Here those who want to work as freelancers are called "seller".
Those who want to purchase the services of freelancers are considered "buyer".
Freelancers disclose everything about their services there after opening a seller account. There is a mention of how much each gig will cost. Buyers can purchase your gig if they think your gig will add value to their service.
But in order to induce buyers, you have to present your gig very nicely. You need to give a detailed description of your service and also mention what benefits the buyer will get when they purchase your gig.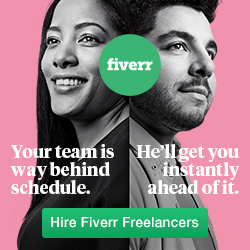 Buyers can browse sellers profiles to see their skills and order for tasks. They can also post jobs. There freelancers will be able to apply citing their skills, experience and price.  Seller can also send buyer requests for jobs that match their skills.
When a client places an order, there are various tools to monitor that order. If the buyer wants, he can see the progress of the work. There is a separate monitoring platform for each individual order.
After each order is completed, the client will be able to review the order page. And the seller's rating will be measured based on the client's review. To get any level (rank) seller need to have a certain amount of rating.
Related Article: What is freelancing? Everything you need to know
Job Categories of Fiverr
Graphics & Design
Music & Audio
Programming & Tech
Digital Marketing
Business
Writing & Translation
Lifestyle
Video & Animation
What is Gig for Fiverr?
The service that a freelancer sells on Fiverr is called gig. Gig gives freelancers the opportunity to showcase their talents, skills and experience towards buyer. Each gig can range from five dollars to several hundred dollars. The better the service, the higher the price of the gig.
A new seller can make 7 gigs, Level 1 seller 15 gigs, Level 2 seller 20 gigs and top rated sellers 30 gigs.
You need to make sure that the performance of your gig is excellent because if the performance is bad, your gig will be excluded from the Fiverr search.
Reasons why Fiverr can delete your gig
If you cheat through the gig.
If you violate the Copyright Act and Trademark Act or the Fiber's "Intellectual Property Claims Policy", the Fiverr authority will delete your Gig.
When providing adult content services.
If you copy someone else's gig exactly.
Spamming, providing nonsense or unsolicited services.
If you try to do affiliate marketing.
If you provide a service that takes more than 30 days.
How to Post a Gig to Fiverr?
First you need to open a seller account.
You need to complete your profile.
Then select the "Gigs" option from the Selling menu.
Create gigs mentioning gig titles, categories and relevant search tags.
Set the price after creating the gig.
Give your gig a description and FAQ.
Mention the things you will need to complete a project.
Add photos, videos, PDFs, etc. to Gig gallery.
Publish your gig.
Features of Fiverr
It is very easy to open an account on Fiverr.
It's like a store, Freelancer is a store seller. They arrange the service and the buyer comes to buy. The service they provide is called a gig. The price of a gig varies from a minimum of $5 to a maximum of $995. Here the price of the gig can be determined in three packages. 1. Basic, 2. Standard and 3. Premium packages.
Those who will provide the service are called sellers and those who purchase the service are considered buyers.
Sellers can seek jobs through buyer requests. Again the buyer can purchase the gig by browsing the seller's profile.
Available Payment Methods – Credit / Debit Card, PayPal, Apple Pay, Google Pay, Wire Transfer, IDEAL, GiroPay, Sofort, Boleto, OXXO
Processing Fee – $1 up to the first $20 and 5% of the total income above $20.
You must be 13 years of age or older to use Fiverr. If you are under this age, you will require your parent's authorization to transact.
Fiber's Customer Support Center is open 24/7.
The client pays the full price in advance when purchasing the gig.
The Gig Page is the place where a seller gives a comprehensive description of what services he wants to offer (or wants to work), and the buyer buys a gig from there and orders the service.
Gig Extra are some additional services related to the main job that a seller displays separately under the gig. (The buyer has to pay extra money for this service).
New Seller: can add 2 gig extras in 1 gig. A gig extra can't be more than $20.
  Level 1 seller: can add 4 gig extras in 1 gig. A gig extra can't be more than $40.
  Level 2 Seller: can add 5 gig extras in 1 gig. A gig extra can't be more than $50.
       Top Rated Seller: can add 6 gig extras in 1 gig. A gig extra can't be more than $100.
Gig Packages is a combination of several services. The advantage of this is that diverse services can be displayed at different prices on the same gig. You can add up to 3 packages in one gig.
Sales Balance is the amount of money that a seller earns and can withdraw at any time. Note: After 14 days of completing the project, the money is added to the Sales Balance. However, the top rated freelancers get within 7 days.
Shopping Balance is the amount that is added to the client after the order is canceled. Also, the promotional offer given by Fiber to buy the service through Gig is also called Shopping Balance.
Seller level Requirement
Photo – Fiverr
Is Fiverr legal / safe?
Fiverr is a legitimate and secure freelance marketplace. If there is any problem with the seller or the buyer, there is customer service which is ready to provide service 24 hours a day, 7 days a week.
If a seller fails to complete the buyer's project on time, the buyer will get back the amount paid in advance.
Every transaction on Fiverr is recorded very neatly so that both the seller and the buyer get the solution of any problem quickly.
Fiverr contains SSL (Secure Sockets Layer) certificates, which are used to secure all types of transactions and personal information.
But sometimes scams and phishing schemes will try to deceive you. Both buyers and sellers need to be careful about this. Be sure to check profile before signing a contract. If you look at the ratings, levels and reviews, you will understand whether he is real or fraud.
Upwork
Upwork is one of the largest freelance marketplaces in the world. Millions of freelancers and clients are using Upwork. Initially it started their business called Odesk but later merged with another freelance website 'Elance' to take the name 'Upwork'.
The most skilled freelancers in the world are found here, big companies like Microsoft, Amazon, IBM hire freelancers from Upwork.
How to manage your Upwork account
Set up your account in such a way that the client gets a full idea of ​​you and your skills.
Add lucid and professional pictures to the profile.
Participate in various tests. Showing a test score in profile will increase your chances of getting a job. If the test score is not in the top 10% or 20%, then it will not show in your profile. You should participate in the test again until you become the top 10% or 20%.
Be careful when selecting job categories. Do not select categories that you have no skills.
If you have training in any field and upwork supports the certificate of that training, then you must attach it to the profile. This will be a plus point for you.
You can add your social media link in the profile.
You can create a one minute video about yourself or your work that will add a new dimension to your profile.
How Upwork Works
Like other freelance websites, Upwork manages their activities. Upwork has a great interface for both freelancers and clients. Upwork authorities give equivalent importance to both freelancers and clients.
Clients post jobs here to wind up their projects. Again they can select the freelancer by browsing the profile of the freelancer.
When the client completes the job listing, Upwork utilizes data science to shows the profile of the freelancers who matches the requirements. As a result, the client does not have to waste time searching manually. Then client can send proposal.
Freelancers can apply there if the client posts the job. If the client deems him eligible, he contacts the freelancer and concludes a contract for the job.
Freelancer gets paid within 15 days of completion of the project and submission to the client. Freelancers receive payments by the hour or per project.
All invoicing and payments are done through Upwork management system. So the freelancer does not have to worry about payment. The freelancer has to pay a part of his income to Upwork as a service fee. They have to pay a 20% fee for the first $500 income, 10% fee for income between $500.01 to $10,000, 5% fee for income that exceed $10,000.
Upwork use their licensed escrow service to make payment. They also follow some other payment methods –
Direct Deposit / ACH
PayPal
Wire Transfer
Local Funds Transfer (LFT)
Payoneer
How to open an account at Upwork? 
If you decide to work at Upwork, sign up as follows –
Open Upwork's sign up page.
Fill out the form with all the required information.
Verify email and phone number correctly.
Press the submit button after filling in all the required information correctly.
Following the above procedure will make you a member of Upwork. But you have to wait until the account is approved.
After successfully creating an upwork account, you can follow the steps below. This will increase your chances of getting a job.
Verify your ID by entering the verification link.
Mention the experience and details of the work you did in the past on your profile.
Fill in all the required information by entering the view profile option.
Design your profile based on your skills.
Job categories of Upwork 
Logo Design
Social Media Marketing
WordPress
Articles & Blog Posts
Video Editing
Illustration
SEO
Translation
eCommerce Development
Data Entry
Architecture & Interior Design
Voice-Over
Features of Upwork
Freelancers need to complete profile 100%. Name, skills, description, job rate and photo should all be filled in correctly.
When the client posts the job, you have to bid for the job with this profile.
A freelancer will get two types of work here, 1.Hourly, and 2.Fixed prize project. With Upwork time tracker, the client can monitor the freelancers' hourly work. This time tracker provides the client with screenshot of what the freelancer has done per minute.
A new freelancer gets 60 connects after opening his account which he uses when bidding. Each job will cost a minimum of 1 – a maximum of 5 connects.
To use the payment option, freelancers have to pay a processing fee of 2.75% of the income as a processing fee. Freelancers have to pay a 20% fee for the first $500 income, 10% fee for income between $500.01 to $10,000, 5% fee for income that exceed $10,000.
Which jobs should I bid on as a beginner?
The client's profile should be checked before bidding on any job post. Big clients who have already spent over $50,000 usually do not want to hire newcomers. They always hunt 90+ JSS or Rising Talent freelancers.
So those who are beginner should target small clients. Again, clients should be selected whose hire rate is good. Once you inspect client history, you will see the client's hire rate. There you will notice how many freelancers have been hired as opposed to client job posts. Bid if the client's hire rate is 60%-70%, if it is less than 50%, it is better not to bid.
Confirm that the client's payment method is verified. If the payment method has not been verified, you should avoid those clients.
It is better not to bid for jobs that already have 20+ applications. Because out of 20 people who are experts, their bids will show first. Due to which the chances of newbies getting jobs are reduced. If you don't get the job through bidding, your bid will be wasted.
In some jobs specific places are mentioned. Such as America, Europe or Asia. If it doesn't match your location then it will show red, if it shows red it is better not to bid there.
Clients may require certain amount of earnings, working hours, job success score, language Skills etc. You should not bid if you don't meet the preferred qualifications.
Fiverr VS Upwork
Although Fiverr and Upwork are two freelance marketplaces, there are some dissimilarities between them. Both organizations have different ways of providing services. The differences between Fiverr VS Upwork are stated below.
| Basis for Comparison | Fiverr | Upwork |
| --- | --- | --- |
| Service Method | The service offer on Fiverr is called Gig. Freelancers present all the information about their services to the buyer through Gig. The buyer can select the seller according to their choice. Buyers also can post jobs where freelancers can bid. | At Upwork, freelancers display all their information on their profile. Clients can hire freelancers directly or they can post a job. Freelancers send proposal to get job. |
| The pricing | Fiverr charges fee to both sellers and buyers. A buyer pays Fiverr $2 for services priced below $40 and 5% for services priced above $40. Freelancers pay a fee of 20% of their income. | Upwork imposes fees on the income of freelancers. Freelancers pay a maximum of 20% on their income. |
| bidding fee | Freelancers do not have to spend any money to bid for a job on Fiverr. | To bid for a job at Upwork, the freelancer has to spend money to buy points, which are known as Connects. |
| Dispute Resolution | Fiverr has no dispute resolution center. If any conflict emerges between the freelancer and the customer, at first the freelancer and the customer have to communicate with themselves to figure out this conflict. If it doesn't work, Fiverr's representative will try to solve this problem. | Upwork has a dispute resolution center. If there is a conflict between the freelancer and the client, the authority of Upwork will assign a mediator to resolve this conflict. |
| Paid Membership | There is no paid membership in Fiverr. Everyone can run their account for free without any monthly fee and enjoy the benefits of Fiverr. But if you are proficient, you can become a Fiverr Pro member. In that case you will get some additional benefits. However, Fiverr Pro customers also do not have to pay any monthly fee. | Upwork has several paid membership plans. They also have different benefits. For example, if you are a freelancer plus member, you will get free connections to apply for the job, see the bid range, get additional benefits in profile, etc. On the other hand, there are also several paid plans for buyers. |
| Work Monitoring | Fiverr has no system to track the work of freelancers. | Upwork has tracking software to track the freelancers' hourly job. |