Freelance Marketplace is a place (website) where you can find a job to work from a distance. This means you don't have to go to someone's office to work. You can work anywhere.
There are several Freelancing websites from which you can get various types of jobs. The responsibility of these websites is to build communication between the hirer and the job seeker.
Those who are interested in working sign up as freelancers on these websites and bid for jobs. Sometimes Hirer provides job by contacting freelancers directly. In this case freelance websites are responsible for the overall management and in return they get a certain commission on the budget of these jobs.
What is freelancing?
Freelancing is a free profession. That means you don't have to work 9 a.m.-5 p.m., you can work whenever you want. If you have experience and skills in any subject then you can make money by completing the job given by any person or company.
If the company deems you qualified, it will hire you and you have to complete the job on time. Depending on your skills and experience, you will get paid.
Here you can do different kinds of work. For example, software development, providing expert opinion, project management, writing, designing, digital services, selling services or any other work that you know.
These tasks can be done hourly, daily, weekly or monthly.
If you want to work as freelancer and earn a good amount of money through it, then identify what you are very good at and come to this profession with good preparation.
Top 10 Freelance Marketplace
There are tons of freelance marketplace. But in this article I will discuss top 10 freelance marketplace in the world. This top 10 freelance marketplace has vast popularity and loyalty. So you can trust this top 10 freelance marketplace.
Fiverr
Upwork
Toptal
Freelancer.com
Guru
PeoplePerHour
99Designs
SimplyHired
Aquent
Dribbble

Fiverr  
Fiverr was founded in 2010. It is currently one of the largest freelance marketplaces in the world. Millions of talented freelancers are working here. This is a splendid freelance marketplace for both buyers and freelancers. Here a buyer will get all kinds of talented freelancers just as a freelancer will get a good buyer. In my opinion, Fiverr is number 1 in the top 10 freelance marketplaces.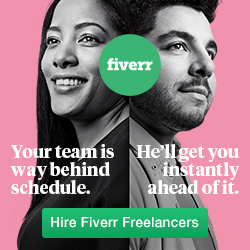 Even if you are a medium skilled freelancer, you can earn a good amount from here. If you get many jobs, you can create a freelancer team and distribute these jobs among them, it is another way to make extra cash.
One can create gigs for as low as $5. Previously, only $5 job was available on Fiverr. But now you can get jobs starting from $5 dollars to hundreds of dollars. Notable and popular categories of Fiverr are: logo design, voice record, article writing, digital marketing, content writing, programming, video & animation etc. There are also other tiny jobs available.
Freelancers have the opportunity to bid jobs, buyers also offer projects directly. There is no hourly job in Fiverr. Everything here is a fixed price project. PayPal, Pioneer and bank transfer methods are available for transactions.
Related Article: What is freelancing? Everything you need to know
Upwork
If a professional freelancer is asked which is the most popular freelance marketplace in the world? He/she will undoubtedly say 'Upwork'. I also think it the most popular marketplace among the top 10 freelance market. Upwork was commenced its journey as Odesk. Later in 2015, it was merged with another popular freelancing platform Elance to launch Upwork.
It is the largest freelancing marketplace in the world with over 12 million freelancers. More than 3 million jobs are posted here every year. Here you will find almost all kinds of jobs.
In this website you will find job at a fixed and hourly rate. Paypal, Pioneer and bank transfer methods are available for the transaction. They charge very low fees.
Clients are also very satisfied by posting jobs in Upwork. Upwork reviews show that 2 million plus clients have expressed their satisfaction with Upwork.
Related Article: How do Fiverr and Upwork Work? Which is Better for Freelancers and Clients?
Toptal
In 2010, Taso Du Val and Breanden Beneschott founded Toptal. They claim they supply the world's top 3% freelancers. This includes developers, designers, finance experts, project managers, and product managers.
To work as a freelancer, you have to go through a rigorous screening process. First your language & personality test will be taken, then your technical skills will be tested, after this they will take live screening test, if you pass these tests they will give you test project, If you succeed in the project, you will be selected and you must continue your high quality work and if you can't do that, they will say goodbye to you.
So if you are highly talented and experienced then Toptal is the best freelance platform for you.
Toptal pays more than other freelancing sites. Freelancers can't specify their hourly rates, they have to bargain with those who hire them.
Freelancer.com
This site is one of the oldest, popular and leading online based job marketplaces. The head office of this company is located in Australia. Launched in 2003, the market has been a favorite destination for outsourcing for almost 18 years.
Freelancers are working here in 1350 different categories. And, some of them are – accounting, finance, internet marketing, SEO, Photoshop, graphic designing, web design, mobile app and many more.
Here you can find fixed price projects as well as hourly rate projects.
Paypal, Skrill, Pioneer and bank transfer methods are available in frelancer. The best thing about this site is that their commission rate is very low.
Guru
Inder Guglani founded Guru in 1997. It is currently a popular freelance marketplace.
In this marketplace both freelancers and employers create their own profiles and both review their profiles and make job contracts.
3 million freelancers are registered with the Guru. As soon as you sing up here, you will be one of the persons of 3 million freelancers who have joined this platform in search of jobs like you.
You can apply for different types of work such as web development, writing, architecture, IT, marketing, administration, etc. There is an opportunity to make free applications and they take a commission of approximately 9%.
Fixed price projects, hourly rate projects, task-based or recurring offering options are available. Payment can be taken from Guru through PayPal, Pioneer and bank transfer system.
PeoplePerHour
PeoplePerHour started their journey in 2007. This site has over 2.4 million registered freelancers and about 1 million business clients.
Rating is given on your work. If you complete the project successfully then you will get good rating. And good ratings will help you get a job easily.
Jobs are available here at fixed price and hourly rate. PayPal, Skrill, Pioneer and bank transfer methods can be used to withdraw money earned from People Per Hour.
There are many freelancers who charge a lot of fees which is why they get less work. So a reasonable fee should be charged for getting regular job.
99Designs
It is a San Francisco-based multinational company that works with designer freelancers. It is the most popular freelance marketplace with designers.
If you love graphic design and are good at it, then 99designs is a great place for you to work.
Freelancers submit their designs to this website and the submitted designs compete with the designs of other designers. Whoever wins the design gets prize money.
Hirers from different countries offer projects on this website. They hire professional graphic designers to design logos, websites, book covers or something else
This website has a special advantage. Freelancers can also work as a team to collaborate on projects and share the budget.
SimplyHired
This is a website where you can also see local area job offers. You can apply for jobs that are available in different cities in 24 countries around the world. This freelancing marketplace is famous for off-line jobs.
This site offers wide range of jobs such as administrative assistant, resources specialist, pharmacist, teaching, retail executive, medical representative, delivery driver, scriptwriters etc.
You can upload your resume on this website. After you upload your resume you will see the jobs and salary according to your qualifications. Then you can contract with any company of your choice.
SimplyHired focused search system letting you narrow down your searches and the jobs you are interested in will be presented to you.
Aquent
This website is well known for providing high quality freelancers for creative, digital, and marketing purposes. They have offices in 7 countries of the world such as USA, UK, Canada, France, Netherlands, Australia, and Japan.
Business giants like amazon, disney, netflix hire freelancers from them.
Those who have 2+ years of experience are accepted. Aquent also welcomes newcomers. They have a salary guide on how much salary you should get according to your skills and experience. You can set the salary by following this guide.
This freelance Marketplace is best for those who are very skilled in marketing & creative work.
Dribbble
Dribbble is a freelance Marketplace where you can browse the design, branding, animations, prototypes, illustrations, graphic art of different designers. It is one of the best freelance marketplace among the top 10 freelance marketplace.
If you are a creative designer then Dribbble may be a great option to build your career. At this website you will find various projects that will spark off you.
They claim that since its inception in 2009, the website has employed over 40,000 talented designers.
To get the job you need a profile that will lure clients to hire you. Your portfolio needs to be exquisitely presented to the client.
You will get the opportunity to update on when you can work and when you can't.
Those who upgrade their account to pro level will have the chance to enter the exclusive freelance design job board.